What is the one change that COVID-19 has brought in our way of functioning that is truly for the better? It has made us go ONLINE! We can now do al
What is the one change that COVID-19 has brought in our way of functioning that is truly for the better? It has made us go ONLINE!
We can now do almost anything online – whether it is shop, study, meditate, exercise, work, transact or anything else! The power of the internet has shown us that having the intention to grow is the only motivation we require.
For those of you who have been planning to pursue studies but feel like the pandemic has dampened your hopes, you've got nothing to worry! Studying online has now become extremely easy and convenient. Multiple colleges nationally and internationally are offering online degree courses that can be taken up from the comfort of your homes.
You may worry that online classes may not be as good as in-person ones or that the learning is lesser but we feel very differently. Allow us to explain ourselves.
Studying over the internet gives you a bunch of benefits that offline classes may not be able to offer you. Let's go over the top 5 reasons why online classes take the cake!
5 benefits of Online Classes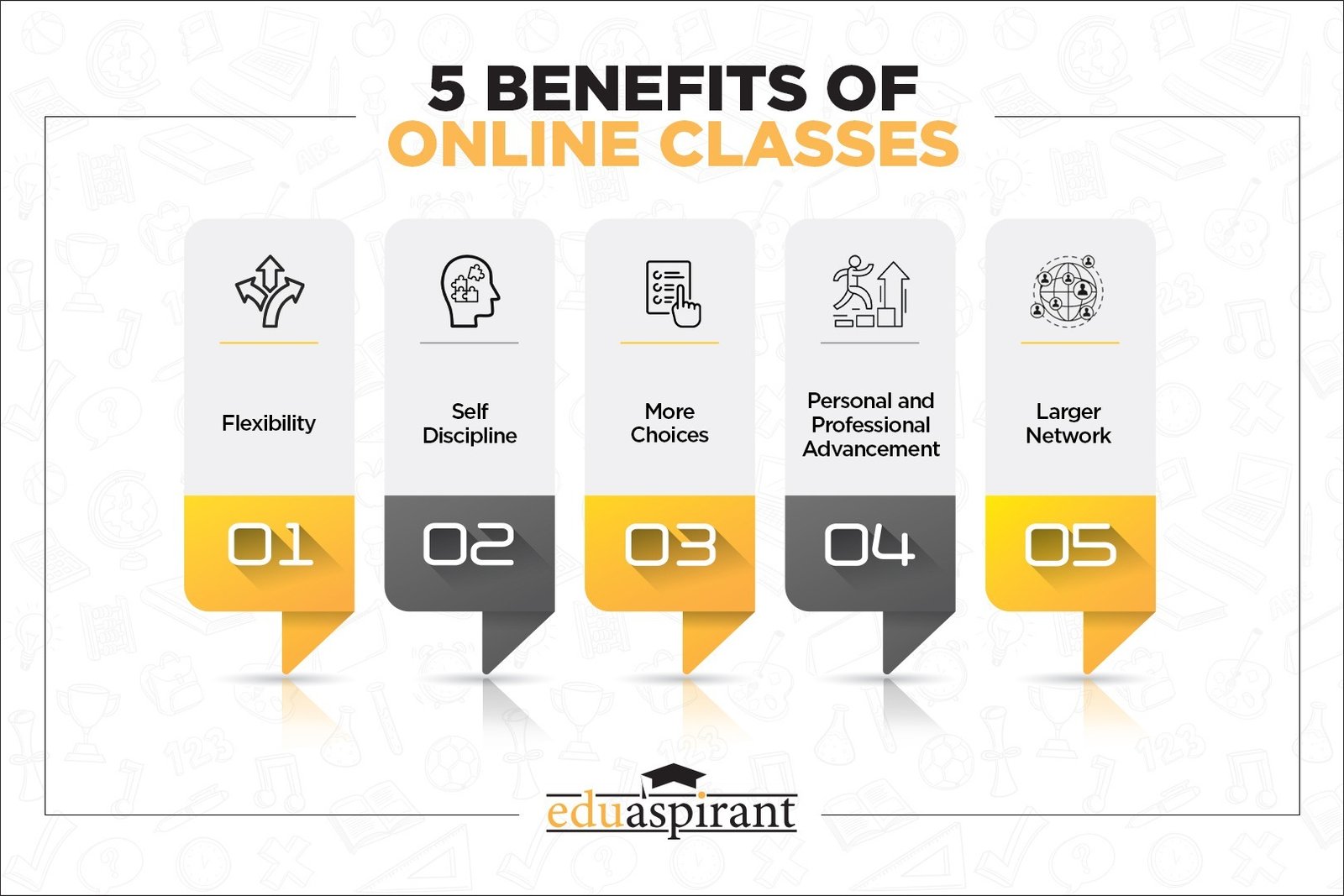 1. Flexibility
One of the most important benefits is flexibility. You can choose your own timings, environment and location to take the classes. Whether it is your couch or your bed where you can concentrate best, there are no limitations. Plus no commute means you won't miss the first class because of traffic!
2. Self Discipline
While online classes do offer you flexibility, they also inevitably teach you self discipline. From getting to class on time to preparing for presentations and tests to even taking time off for yourself, the onus of managing your schedule comes on you. It makes you much more self-motivated, better at prioritising and time-management – traits that are welcome in every organisation/individual.
3. More choices
Let's face it, while you do decide on your course based on interest levels, where you may have to shift for it also plays an equally important role. Online classes remove this barrier. Irrespective of location, you can now focus solely on what you want to study and take it up from the comfort of your home.
4. Personal and Professional Advancement
With good time management, you will know how long you need to study for and the amount of spare time you have left. This will allow you to take up courses of interest, intern with organisations and chase any opportunity that appeals to you. The need to disrupt income because of education is now ruled out. Besides, all organisations appreciate professional experience.
5. Larger Network
When you study in a physical institution, your social / professional network may be limited to your classmates and professors but when you study online, you can connect with like-minded people from across the world. Understanding their perspectives, experiences and working methodology will make you more aware as well as open up multiple avenues for you.
Now that you know that online classes are equally good as in-person classes, if not better – let us proceed to where you can take up classes.
There are a variety of institutions that offer accredited online degree programs which can enrich your career and personality, all from your bedroom / couch.
Here is a list of the top 5 universities offering the best online degree programs across the world and their approximate tuition fees:
Purdue University [~$28,000]
University of Virginia [~$27,000]
University of Florida [~$27,000]
North Carolina State University [~$25,000]
University of Buffalo [~$23,000]
All of these offer many courses that can enrich your portfolio in areas of your interest.
Closer home, we have picked out the top 8 Best Online Degree Colleges in India which offer a bouquet of exciting courses for you to pursue. Be it masters, bachelors, diplomas or certifications, these universities have all.
Let's check them out.
8 Best Online Degree Colleges in India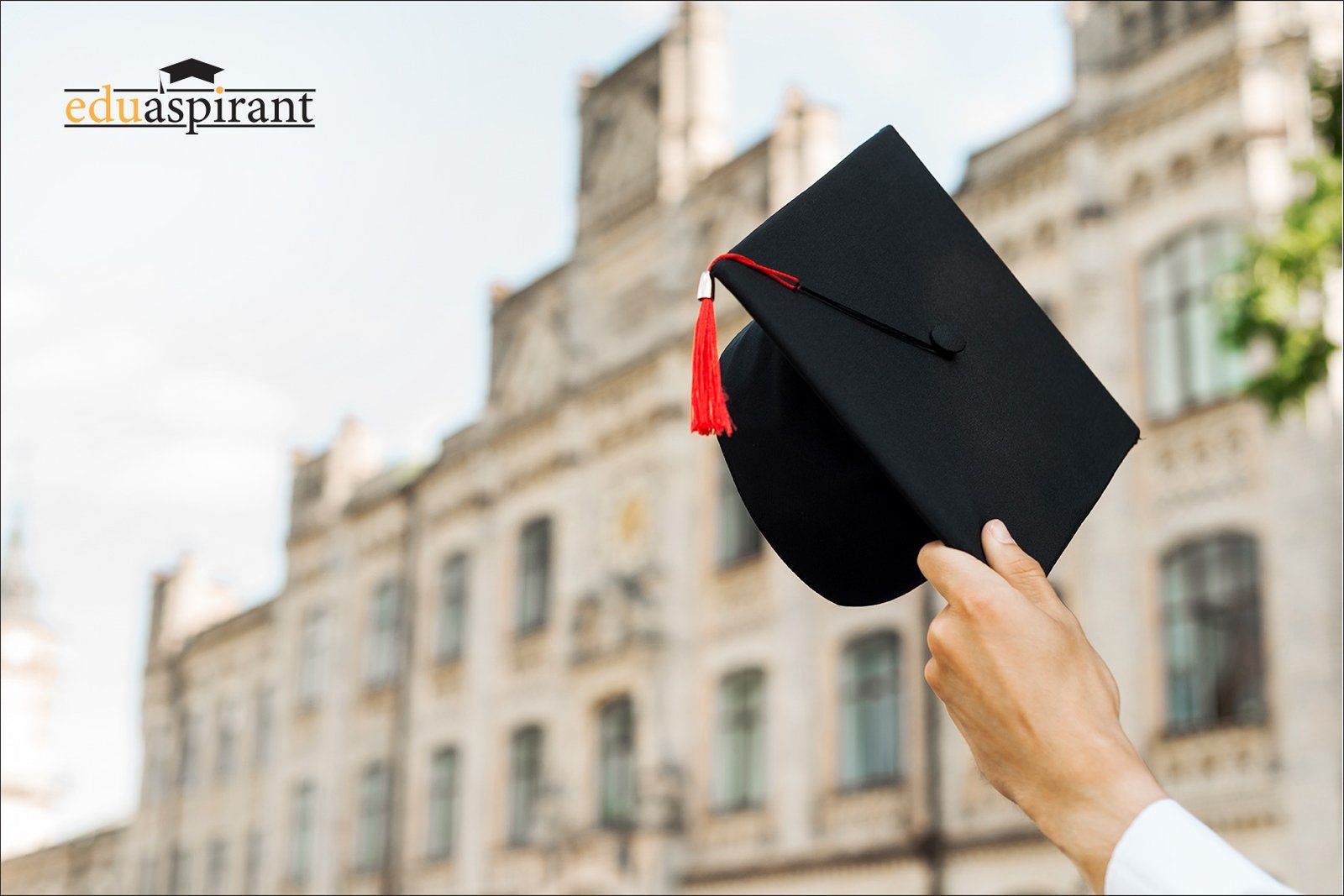 1. Amity University
One of the most renowned universities in Noida, Amity has been known to have a very strong alum base as well as essential industry connections. Staying ahead of the curve, they have announced various online degree programs for aspiring students.
Courses offered: Online Master Degree Programs – Masters of Arts, Masters in Business Administration, Masters in Commerce, and Masters in Computer Applications
Online Bachelor Degree Programs – Bachelors of Arts [English and Hindi Mediums], Bachelors of Business Administration, Bachelors of Commerce [English and Hindi Mediums], Bachelors of Computer Applications
Online Diplomas – Diploma courses are available in various specialisations, from journalism and mass communication, advertising, business management, to human resource management, international business, logistics, etc
Approximate Fee: The fee at Amity differs for different courses but it is very affordable and falls below INR 2.5 Lacs
2. IGNOU
Indira Gandhi National Open University (IGNOU) has been a pioneer in distance education in India for many years. They have always supported students who cannot enrol for a full-time course but are inclined towards higher education by designing courses that are world-class and informative. Education during the pandemic has only been one step further for them.
Courses offered: M.A. – Translation Studies, M.A. – Hindi, M.A. – Gandhi and Peace Studies, Bachelors of Tourism, PG Diploma – Gandhi and Peace Studies, Diploma in Tourism Studies, and a whole lot of certification courses
Approximate Fee: While the certification courses range between INR 900 – 6000, the bachelors and masters' degrees fall below INR 12,000 at the most
3. IIT Madras
Having been conferred many awards for its brilliance, IIT Madras has always offered courses par excellence and continues to do so. Even during these tough times, they have formulated some courses for students who are interested in pursuing online degree programs.
Courses offered: B.Sc in Programming and Data Science, Diploma in Data Science and Diploma in Programming
Approximate Fee: The fee for the diploma courses is INR 87,000 and for the bachelor's degree is INR 2,42,000.
4. Bharathi Vidyapeeth
One of the most well known deemed to be universities in India, Bharathi Vidyapeeth is celebrated for its excellence in education and execution. Their BBA and MBA degrees have been moved to the online platforms and continue to provide great knowledge to those seeking it.
Courses offered: Bachelors and Masters degrees in Business Administration
Approximate Fee: The fee for each of these online courses ranges between INR 75,000 – INR 85,000 and can be availed by any interested students.
5. Shanmugha Academy
Shanmugha Academy, better known as SASTRA (Shanmugha Arts, Sciences, Technology and Research Academy), is one of the most credible and prestigious academic institutes that offers a wide range of degree programs. As of now, they have two online courses, one bachelor's degree and one diploma.
Courses offered: Bachelors of Computer Applications and Diploma in Sanskrit
Approximate Fee: The fee for the diploma course is INR 13,670 and for the BCA is INR 1,14,920
6. Dr. D Y Patil Vidyapeeth
Taking up a course from an institute like DY Patil Vidyapeeth immediately showcases competency as they are known for superior quality education. Even in times like these, DY Patil Vidyapeeth has left no stone unturned to offer a wide variety of courses.
Courses offered: Masters in Business Administration, Certificate courses in Digital Marketing as well as Hospital and Healthcare Management
Approximate Fee: The fee for any of the online certification courses is INR 28,000 for six months while the fee for the MBA course is INR 1,06,400
7. JSS Academy
JSS Academy believes in offering online courses that can be beneficial considering the global situation. Although they have only two online courses, both are topical and relevant to the current times and hence, much in demand. Nationally or internally, these courses can help the graduate in getting a job.
Courses offered: MBA in Hospital Administration and PG Diploma in Bioinformatics
Approximate Fee: The fee for the former is INR 2,00,000 while for the latter is INR 40,000
8. Manipal Deemed to be University
Manipal Academy of Higher Education has always led from the front when it comes to higher education. In these trying times, it is no different. Manipal is offering its much-coveted MBA program online.
Course offered: Masters in Business Administration
Approximate Fee: The fee for this course is around INR 3 Lac
With all these choices at your disposal, there is nothing that should stop you from taking up higher education. Make a decision, step up and choose the course that appeals to you. Your dreams are only a click away!
Which is the course that you want to take up? Tell us in the comments below.