The country has been hit by a revolution. Another new normal is about to come into being. The life of educationists, students, parents, and practicall
The country has been hit by a revolution. Another new normal is about to come into being. The life of educationists, students, parents, and practically everyone is about to change! No, we are not talking about Corona.
This time it is about the National Education Policy (NEP) announced in July 2020.
The Union Government hopes to change the course of education in our country with a massive announcement. After 34 years, the education policy in our country has been changed. And what a redoing!
However, any transformation is not easily accepted and takes time to come into implementation but with this national educational policy draft, we are now hopeful of looking forward to a holistic growth for Indian students.
If you are wondering what NEP is all about, we've put down the most important pointers for you to easily soak in and understand.
NEP 2020 EXPLAINED / NEP 2020 HIGHLIGHTS
Change in the school system
The fear that children have had of board examinations because of the rote-learning required, will now change forever. Rather than 10+2, the format followed here on will be 5+3+3+4. Exams will be held after Grade 3, Grade 5, and Grade 8, helping students be better prepared for 10th and 12th boards.
Progress Tracking
Allowing space for peer growth, student report cards will be reviewed by peers as well as professors. Usage of technology like Artificial Intelligence will also be encouraged, for students to be able to track their year-on-year growth.
Board Examinations
The ever-dreaded board examinations will now be held under two difficulty levels . This will allow students to attempt the exams a second time to improve their scores. Students can also choose any course of their choice, irrespective of their stream.
Medium of Education
The Union Government also wanted to focus on the development of regional and native languages of India. To execute this, they have declared that the medium of instruction till Grade 5 (and even till Grade 8 if possible) should be the mother tongue or the regional language. The declaration states that two out of three languages children learn should be native.
Higher Education Policy and Exit Options
Many alterations have been witnessed for students planning to pursue higher education..
Firstly, the government aims to increase the Gross Enrolment Ratio (GER) from 26.3% in 2018 to 50% in 2035. They will do away with the 2, 3 and 4 year degrees and make all undergraduate degrees of 4 year duration, with an option to exit after every year.
Secondly, a single overarching body – the 'Higher Education Commission of India' (HECI) will be set up which shall overlook all higher education in the country. All other regulatory bodies will be dissolved.
Entrance Examinations for Higher Education
The National Testing Agency (NTA) will be responsible for conducting one common entrance examination (CEE). This will be utilised for admission into all institutions in India. However, universities will not be mandated to use this for their admissions.
There will also be subject-specific examinations held twice a year to assess competency in humanities, languages, sciences, arts, etc.
International Universities
We have saved the best for the last! For all those of you dreaming of studying in prestigious global universities, NEP 2020 has got you covered.
Universities that have been consistently performing well in India can look to set up shop in other countries too. Similarly, those universities which fall in the top 100 universities in the world can open up a campus in the country for local students.
Now that you have got a hang of the new education policy, let's check out what the smartest and most knowledgeable minds in the country have to say about the reformation:
WHAT DO THE EXPERTS HAVE TO SAY?
The policy changes proposed in NEP 2020 could lead to better learning and employment outcomes for everybody. India is not a country where one size fits all—there is a very large differential across states and communities. The NEP committee under Dr Kasturirangan's leadership recognises this fundamental differentiator, and has laid out a far-reaching vision to create learning environments that are multidisciplinary, that cater to a well-rounded education for all individuals, and has the immense potential to transform India's human capital development.
TV Mohandas Pai, Padma Shree Awardee and current chairman – Manipal Global Education
A child's pre-school learning does play a significant role in the way a child performs at school; it gives the child a head-start over its peers. However, is it viable to coerce a child into the education system this early? Countries like Finland, whose education system is regarded the best in the world, absorb a child in school only after he/she turns at least 7 years old.
Priyank Sharma, Doctoral Research Scholar at National Institute of Educational Planning and Administration
I believe this is a wonderful opportunity for really looking at this whole discourse that has been going on for years about 21st century skills, ensuring they are embedded, and so on. I think for the first time, we're really bringing in 21st century out of only conversations and into the classroom. And you can't possibly do 21st century skilling through rote learning.
Ameeta M Wattal, member of NCERT, advisory board and governing board member at CBSE and holds various other positions
While the experts come in with their knowledge and insight, the youth of our country has unique points of view too. They are the fresh minds that are the future, the building blocks of tomorrow.
What are their opinions? Let's find out!
NEP 2020: THE VOICE OF INDIAN YOUTH
We got in touch with some of the youth that works in this industry to take their opinions on NEP 2020 and here's what they have to say.
The National Education Policy 2020 is a potential step towards holistic learning. Through this contemporary yet comprehensive approach, students will map the right direction to channelise their interests and talents. These education reforms have brought in a new dawn for the youth of the country!
– Dania Rehan, Copywriter
When I was in school, I was always fascinated by History and Chemistry. Unfortunately, the education system then was not so flexible to let me pursue my two favorites. I am glad and a wee bit jealous that the future generations have the opportunity to pursue their interests from different verticals.
– Aishani Amrita, Team Lead – Account Management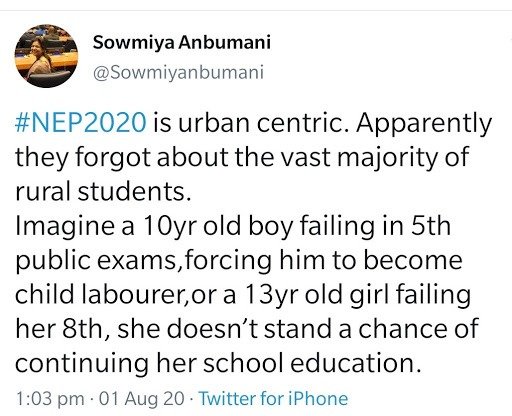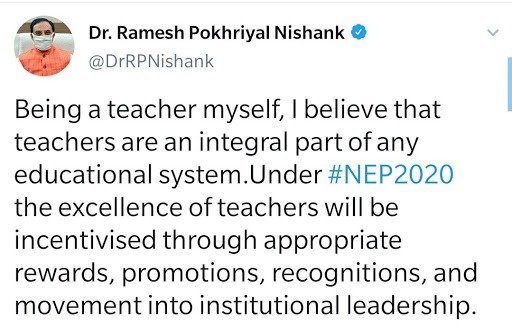 I believe that the New Education Policy 2020 provides students with immense potential and flexibility to grow and learn. However, while this new approach aims to make school education more egalitarian, some reforms such as that of making mother-tongue the preferred medium of instruction till class 5 could make learning English, which is the universal language, difficult for students and thus increase the inequity.
– Harsimran Kaur, Copywriter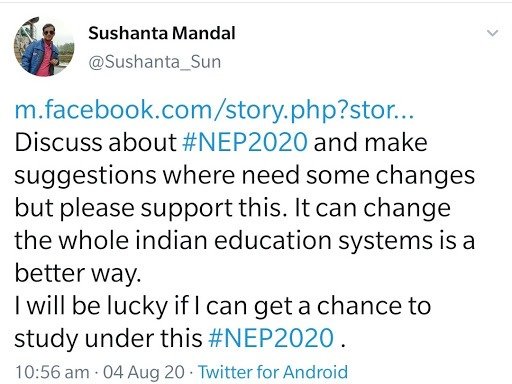 The new education reform was a long time coming. This is a new era for our country, and it's youth, where exploring is given more importance than a percentage.
Unlike before, students can now make an informed decision about their career because they will be exposed to different topics from an early age. They won't have to spend 16 years studying before they understand what exactly they would like to do in their career and life.
Finally, the removal of the pressure of 10th and 12th boards means they can again focus on learning rather than scoring. That is a relief.
For the past few years, Indian Higher Education has been focused on industry-relevant curriculum. Now, that will transform into industry-relevant education. In other words, from the start, students will gain the knowledge they need to be industry-ready. All in all, this will create a win-win situation for students and organizations and lead the country towards greater heights.
– Kshitj Roshan, Team Lead – Account Management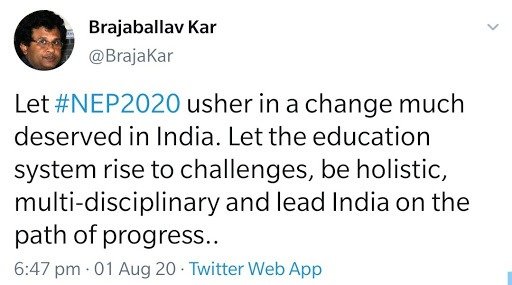 While there are some who agree with NEP 2020 and believe it could be a stepping stone for India, there are many who believe it's not planned well enough.
Well known author, Robin Sharma had rightly said 'All change is hard at first, messy in the middle and gorgeous at the end.'
How do you think NEP 2020 will affect India? Share your views in the comments below.