Engineering, Medicine, BBA, B.COM, Computer Applications - thinking of taking up a degree course but can't think of options beyond these? Well, it's n
Engineering, Medicine, BBA, B.COM, Computer Applications – thinking of taking up a degree course but can't think of options beyond these? Well, it's not your fault.
Whenever we are at the important juncture of choosing an undergraduate degree option, we are faced with the challenge of identifying what fits us best, what are the skillsets that can be enhanced and what are the interests that can be explored. Finding a match while sticking to the boundaries of these few courses becomes even tougher.
It is time to break free!
It is time to spread your wings far and wide and explore courses that extend beyond the vision of society. If you are hoping to find the right course for you but want to tread the road less travelled, you're on the right track.
You can opt for a course that matches your personality as well as goals, one that combines your interests with your skillset. Here are 10 unexplored undergraduate degree programs that are different from the run-of-the-mill routes usually opted for.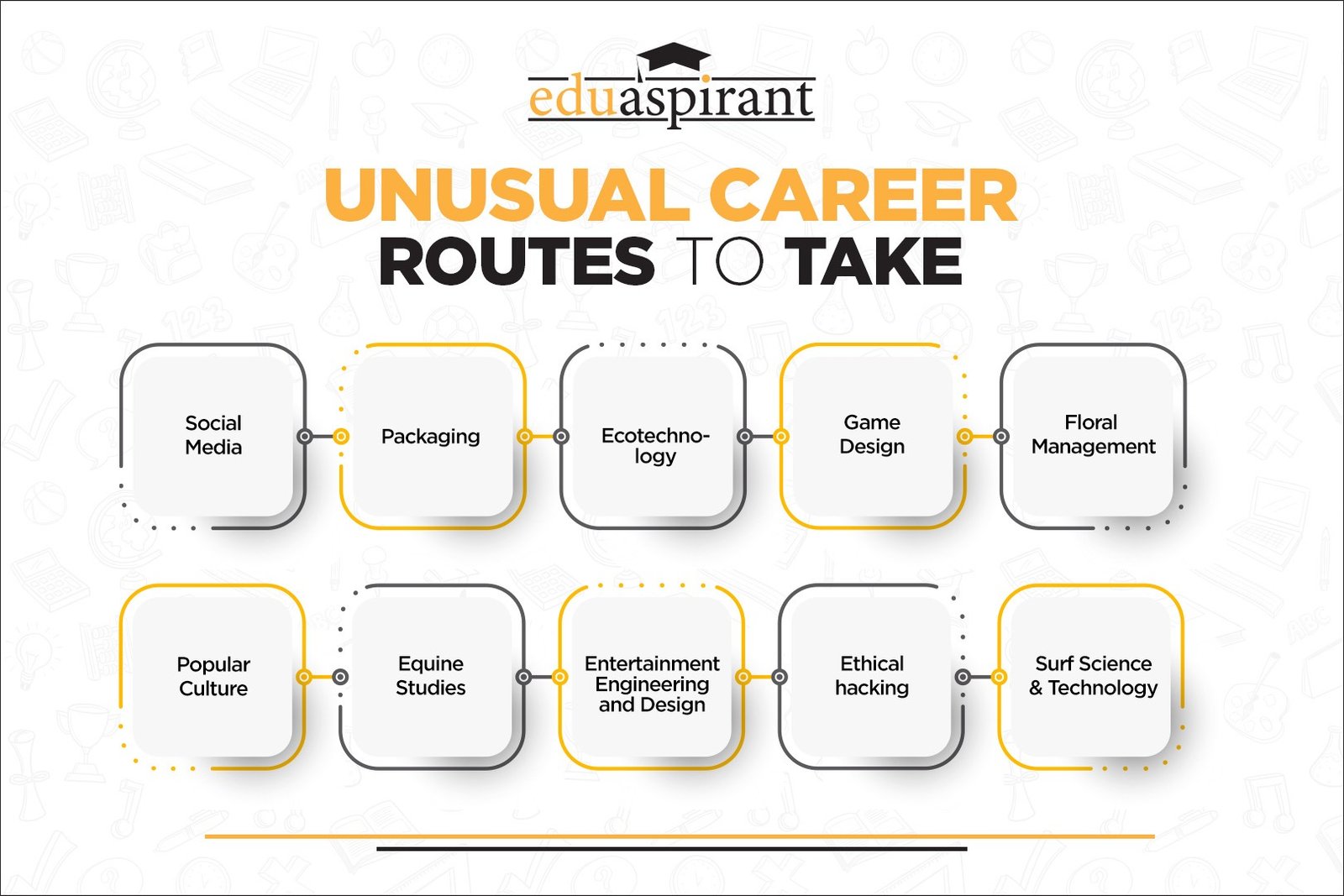 1. SOCIAL MEDIA
Social Media has taken the world by storm in the last decade. Whether it's Instagram, Facebook, LinkedIn, WhatsApp, Twitter or any other social platform, most of us have an account on more than one. From finding jobs online to earning an income from blogging and photography, social media offers great opportunities. There are many colleges that have understood the importance of this and have designed courses to prepare upcoming graduates with methods, strategies, etc.
2. PACKAGING
This may sound like an absurd field of study but when you stop and reflect, every single thing we use comes in a package. Whether it is food, cosmetics, shoes, books, electronics, or anything else, packaging of every product is very important. Under this course, a student understands the different types of packaging, the environmental impact it has, aesthetics, etc. The USP of this degree is that you will never be out of a job, because packaging isn't going anywhere!
3. ECOTECHNOLOGY
In today's time, running a business in an eco-friendly manner has become more important than ever before. Whether you want to start out as an entrepreneur or work with a firm, understanding how to use technology without causing harm to the environment is critical. By showing you the problems of today and helping you predict those of the future, this course equips you to run a green business.
4. GAME DESIGN
While an undergraduate degree in Game Design may sound all fun and play, it is far from that. This course is for all those who love technology and gaming. You learn how to combine the two and create games that are bigger, better and faster. It includes subjects like character drawing, graphic design, 3D modelling, computer graphics, animation, etc.
5. FLORAL MANAGEMENT
Although we choose to buy and gift flowers to our loved ones on every occasion, running a floral business is much tougher than it is perceived to be. There are many few universities in the world that offer a specialised course in it but if you are all for flowers and want to start working in the industry, it's time to apply for this course. It includes topics such as Planting Design and Maintenance, marketing, designing arrangements, sympathy floral design, etc.
6. POPULAR CULTURE
Popular Culture is a comparatively new course, but it is promising to be an important part of education. It prepares students for a career in advertising, marketing, sociology, etc. The course helps you understand the common traditions, practises and belief systems that are prevalent in society and thereby apply it to your job.
7. EQUINE STUDIES
If you are someone who loves horses and would do anything to get to work with them everyday, there is a degree program for you too! Equine Studies allows you to understand and work with animals. It could also be a precursor to the discipline of veterinary science. As a graduate of this course, you can look into training of horses, pasture management, horse reproduction, managing stables, etc.
8. ENTERTAINMENT ENGINEERING AND DESIGN
Whenever we think of engineering and creativity, they don't seem like industries that intersect easily. However, they do. An undergraduate degree in Entertainment Engineering and Design combines mechanical engineering, civil engineering, structural engineering with entertainment history, entertainment design and computers. With this degree in your kitty, you can create arcade games, design game theatres, etc.
9. ETHICAL HACKING
Ethical may not go with hacking at the outset but this is a real field of work. Businesses utilise computers and cybersecurity for many reasons. Ethical Hacking is a course that prepares you for it and has an extremely high demand around the world. With this degree, getting a job will never be a problem.
10. SURF SCIENCE AND TECHNOLOGY
No points for guessing what you will study in this course. A degree program in Surf Science and Technology prepares you for the surfing industry. It does not teach you how to surf rather it equips you to channelise and monetise your passion using tried and tested methods coupled with technology. You can work with surfing brand, companies or even start a business of your own.
Wondering how you never heard of these courses before?
Don't be too shocked by the unusual UG courses we have picked out. Explore colleges where they are offered and if you are gravitating towards one of these, it's time to give way to your dreams and pursue them!
Tell us about any other unique undergraduate course you have heard about in the comments below.